From Classroom to Virtual Learning
In March 2020, the Governors of New Jersey and New York declared statewide stay-at-home orders, and Community High School was quick to respond.
We did not waver from our mission to provide our students with a complete high school experience during these uncertain times. We continue to offer instruction tailored to address each student's individual needs and learning styles.
Our staff is striving to meet the same classroom engagement at home with two specific goals in mind:
1. Provide appropriate technologies for our students to succeed
Our first goal is to provide the appropriate technologies for our students to succeed during virtual learning. To facilitate schooling in a digital environment,
All of our students have school-issued Chromebooks.
Each student has access to the equipment and materials they need to succeed. These tools are familiar to our students; therefore, the transition to home learning is seamless.
The Community High School virtual learning platform includes daily virtual classes, online textbooks, assistive technology, live feedback from teachers, one-to-one tutoring sessions with teachers and paraprofessionals, and related services such as Counseling, Speech and Language, and Occupational Therapy.
Teachers regularly post assignments and grades on Genesis Student Information System and Google Classroom as well as Google's Education Suite.
Our Guidance Department is readily available through virtual meetings, phone conferences, and email correspondence to ensure that our 12th graders have a smooth and effective college transition process.
Additionally, our technology and virtual learning platform allow us to participate in parent/student conferences, Google "hangout" sessions, senior, club, and Student Council meetings, as well as annual IEP meetings with sending districts, teachers, and parents.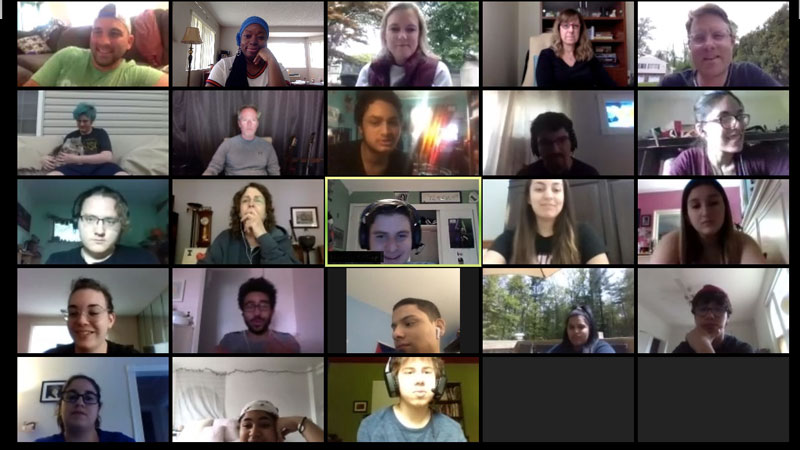 2. Set up specific guidelines
Our second goal is to establish a daily routine for our students. Our Administration set up specific guidelines to ensure that classes meet regularly. Monday through Friday, students log in to live video classes with their teachers and peers, and when necessary, students also participate in one-to-one instructional sessions for extra help and for further understanding. Teachers conduct lessons, and students are encouraged to participate actively. Furthermore, on Saturdays and Sundays, when necessary, students participate in one-to-one tutoring and/or counseling sessions.
While distance learning may have its challenges, Community High School is making adjustments where necessary. Our Administrative team and dedicated staff are meeting on an ongoing basis, as a team, and with their faculties to re-evaluate every step of the way so your child has a complete educational experience.